FEATURES
Up to 160 cfm of fresh air

Integrated MERV8 fresh air filter

6" top-mounted duct connections

Unobstructed front access

Energy-efficient counter flow core

Multiple speed operation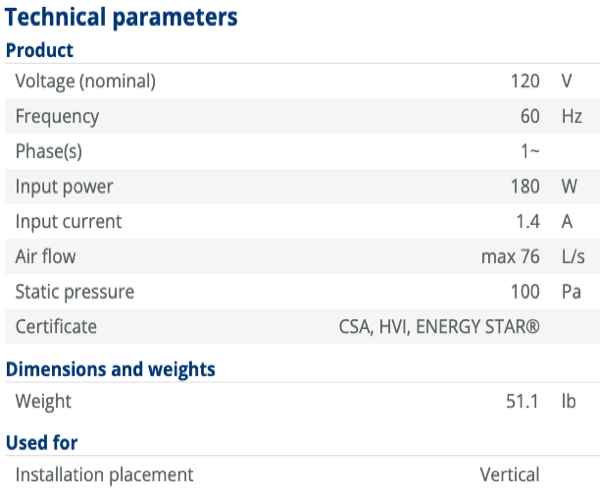 ABOUT
Fans
Two (2) factory-balanced fans with backward curved blades. Motors come with permanently lubricated, sealed ball-bearings to guarantee long life and maintenance-free operation.
Heat Recovery Core
Counterflow heat recovery exchanger built from thermoformed polymer plates covered by a limited lifetime warranty. Core dimensions are 14.4" x 14.4" (366 x 366 mm) with a 10" (255 mm) depth. Our heat exchangers are designed and manufactured to withstand extreme temperature variations.
Defrost
The unit incorporates a unique and quiet internal recirculation defrost that does not depressurize the home during the defrost cycle. A preset defrost sequence is activated when the outdoor temperature falls below 23° F (-5° C) and automatically adjusts itself based on operating conditions. The fan speed is also adjusted automatically to provide a smooth and quiet transition between Ventilation & Defrost mode.
Serviceability
Core, filters, fans and electronic panel can be accesses easily from the access panel. Core conveniently slides out with only 12" (305 mm) clearance.
Duct Connections
6" (152mm) round metal duct connections with rubberrized seal.
Case
24 gauge galvanized pre-painted steel corrosion resistant
Insulation
Cabinet is fully insulated with 3/4" (20 mm) high density expanded polystyrene.
Filters
Two (2) washable electrostatic panel type air filters 7.87" (200mm) x 9.84" (250mm) x 0.125" (3mm). An added MERV-8 supply filter is supplied with the unit. MERV-8 dimensions 3.48" x 10.12" x 1.75" (88.5mm x 257mm x 44.5mm)
Warranty
Limited lifetime on counterflow exchanger, 7 year on motors, and 5 year on parts.
Requirements and Standards
Complies with the UL 1812 requirements regulating the construction and installation of Heat Recovery Ventilators

Complies with the CSA C22.2 no. 113 Standard applicable to ventilators

Complies with the CSA F326 requirements regulating the installation of Heat Recovery Ventilators

Technical data was obtained from published results of test relating to CSA C439 Standards

HVI certified and ENERGY STAR® qualified*
*This product earned the ENERGY STAR® by meeting strict energy efficiency guidelines set by Natural Resources Canada and the US EPA. This product meets ENERGY STAR requirements only when used in Canada.
To ensure quiet operation of the ENERGY STAR certified H/ERV, each product model must be installed using sound attenuation techniques appropriate for the installation.
The way your heat/energy-recovery ventilator is installed can make a significant difference to the electrical energy you use. To minimize the electricity use of the heat/energy recovery ventilator, a stand-alone fully ducted installation is recommended. If you choose a simplified installation that operates your furnace air handler for room-to-room ventilation, an electrically efficient furnace that has an electronically commutated (EC) variable speed blower motor will minimize your electrical energy consumption and operating cost.
Installation of a user-accessible control with your product model will improve comfort and may significantly reduce the product model's energy use.